Mitey Riders
Volunteer //
What you need to know
About Volunteering //
Volunteering at Mitey Riders is much more than donating one's time and service –  we ask you to be an active part of our larger community – a team that is vital to our continued success. Whatever your experience, your willingness to give yourself and your time, talents and energy is what is needed to support the people we serve.
Volunteers are the backbone of our program. Without them our riders simply could not ride!
CORPORATE VOLUNTEERS
From painting, to irrigating, to building fences, to cleaning and everything in between – we have endless volunteer opportunities for handy individuals or groups that want to work together on a project. These volunteers are essential to Mitey Riders!
LESSON VOLUNTEER – Horse Leader
Horse leaders are responsible for leading our horses during the lesson time. Some of their responsibilities include warming the horse up for class, tuning in to the horse's personality and attitude for the day, and keeping the equine and rider safe during the lesson. This is a great spot for you if you have a horse of your own currently or if you have had experience with horses in the past. Training is given to all volunteers prior to being brought onto the job.
BARN TEAM
For those volunteers who want to really get up close and personal with the horses this is the perfect job. These volunteers provide special horse and stall care for their assigned horse each week. To become part of the Barn Team, volunteers MUST have horse experience and attend the Barn Orientation.
COMMUNITY SERVICE
Whether school or community required, arranged by your church group or any other group, volunteering is a great way to give back to your community.
FUNDRAISING & SPECIAL EVENT VOLUNTEERS
We always needs volunteers who are wiling to help plan and implement fundraising and other special events. These are fun and rewarding opportunities to be creative and really bring a project to fruition. Such events make an impact in drawing the community's attention and support to the Mitey Riders.
SPECIAL SKILLS
If you possess skills or professional/technical experience that may benefit Mitey Riders, such as photography, grant writing, computer knowledge, etc., we encourage you to contact us.
Lesson Volunteer – Sidewalker
For the volunteers that want to be able to work directly with the riders, this is the best job for you. Side walkers are the part of the team that is responsible for the riders and helping them throughout the lesson. You are there for physical, emotional, and social support at any level that each rider needs. You help riders stay on task, follow instructions and have a safe and enjoyable ride!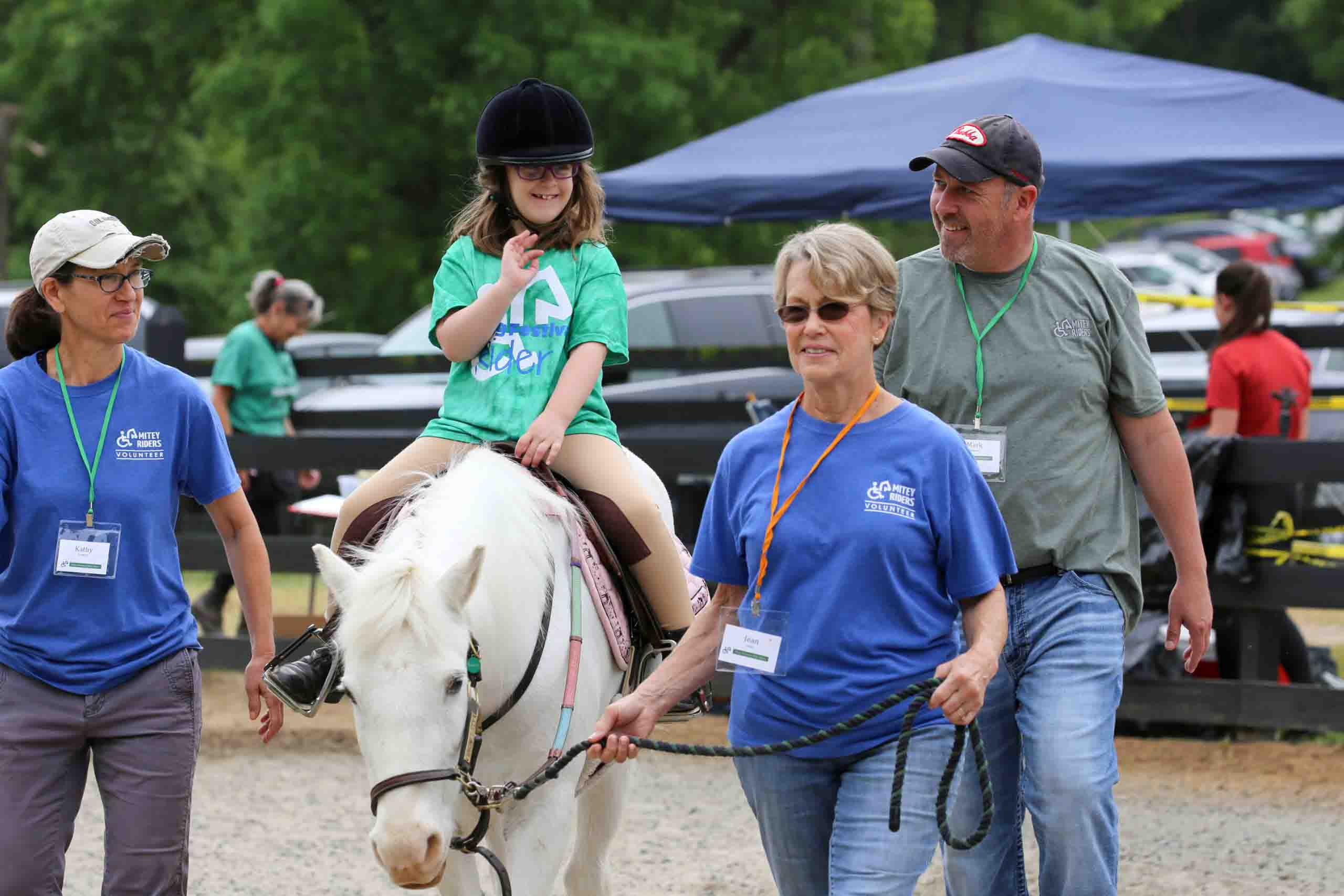 Reviews
From our Volunteers //
Eileen K.
VOLUNTEER FOR OVER 10 YEARS
"Volunteering at Mitey Riders has enriched and changed me personally. Anyone who is involved with this program is deeply touched by what they see, and it totally changes your perspective about people with disabilities. It never ceases to amaze me, when I look at the children in this program, I realize that their parents have a life long commitment to them and know that they must be their advocate for that child's life. It is a good feeling knowing that everyone involved understands that the kids come first and everything else is secondary."
Sam B.
VOLUNTEER FOR OVER 10 YEARS
"Working with Mitey Riders has offered me benefits such as the exercise, fresh air and the ability to experience the natural beauty of the Misty Meadows farm. But the greatest benefit is getting rebalanced and re-centered. …Every now and then you get to see and share in a miracle. I enjoy getting to know some truly wonderful people and learning from the horses what it means to be gentle, sensitive, and humble."

501(c)(3) non-profit
A PATH Intl. Premier Accredited Center for Therapeutic Riding
Call Us
(704) 841-0602 (Office)
(704) 814-6627 (Fax)
Visit Us
455 Providence Rd. South, Waxhaw, NC 28173
Email Us
ridewithus@miteyriders.org